Closing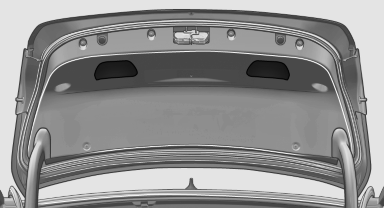 Recessed grips in the interior trim of the trunk lid make it easier to pull down the lid.

Danger of pinching
Make sure that the closing path of the trunk lid is clear; otherwise, injuries may result.

Do not place the remote control in the cargo area
Take the remote control with you and do not leave it in the cargo area; otherwise, the remote control is locked inside the vehicle when the trunk lid is closed.
See also:
Signal tones
When approaching an object, an intermittent tone is sounded that indicates the position of the object. For example, if an object is detected to the left rear of the vehicle, a signal tone sounds ...
Timeshift
Approx. one hour of the program being broadcast on the channel currently being listened to is stored in a buffer. Prerequisite: the signal must be available. The stored audio track can be playe ...
Break-in period
Moving parts need breaking-in time to adjust to each other. Please follow the instructions below in order to achieve the optimal service life and economy of operation for your vehicle. Engine and ...