Opening
During opening, the trunk lid pivots back and up.
Ensure that adequate clearance is available before opening.
Opening from the outside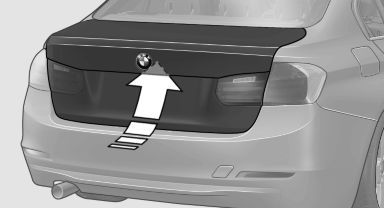 ▷ Press the button on the trunk lid.
▷

Press the button on the remote control for approx. 1 second.
▷ With Comfort Access the trunk lid opens with no-touch activation.
Opening from the inside

Push the button in the driver's footwell.
If the vehicle is stationary, the trunk lid opens if it is not locked.
See also:
Automatic Service Request
Data regarding the maintenance status or legally mandated inspections of the vehicle are automatically transmitted to your service center before a service due date. You can check when your serv ...
Calling
Dialing a phone number 1. ›Dial number‹ 2. Say the phone number. 3. ›Dial‹ Correcting the phone number The sequence of digits can be deleted after the system has repeated the digits. ›Correct ...
Tasks
Displaying task listDisplay open tasks that must be completed within the next 90 days. 1. "Office" 2. "Tasks" Sorting task list1. Select the top line in the ta ...