Components of the integrated Owner's Manual
The integrated Owner's Manual consists of three parts, which offer various levels of information or access possibilities.
Quick Reference Guide
Located in the Quick Reference is important information for the operation of the vehicle, the operation of basic vehicle functions or for what to do in the event of a flat tire. This information can also be displayed during driving.
Search by pictures
Information and descriptions based on illustrations can be searched via search by pictures.
This is helpful, for example, if the description of an outfitting package that cannot be named is needed.
Owner's Manual
Information and descriptions can be searched by direct entry of a search term via the index.
Select components
1.

Press the button.
2. Turn the controller: open "Vehicle Info".
3. Press the controller.
4. Selecting desired range:
▷ "Quick reference"
▷ "Search by pictures"
▷ "Owner's Manual"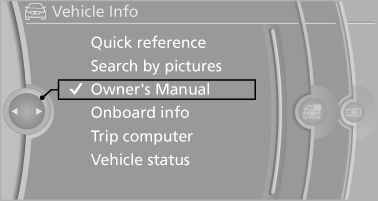 See also:
Adjusting the side extensions
Adjusting the side extensions Fold forward for increased lateral support in the resting position. Removing The head restraints cannot be removed. ...
Malfunction
Comfort Access may not function properly if it experiences interference from external sources such as mobile phones, metal objects, overhead power lines, transmission towers, etc. In this case, ...
Navigation bar overview
With navigation system: the functions of the navigation bar symbols can also be stored on the programmable memory buttons. They are stored. ...