Components of the integrated Owner's Manual
The integrated Owner's Manual consists of three parts, which offer various levels of information or access possibilities.
Quick Reference Guide
Located in the Quick Reference is important information for the operation of the vehicle, the operation of basic vehicle functions or for what to do in the event of a flat tire. This information can also be displayed during driving.
Search by pictures
Information and descriptions based on illustrations can be searched via search by pictures.
This is helpful, for example, if the description of an outfitting package that cannot be named is needed.
Owner's Manual
Information and descriptions can be searched by direct entry of a search term via the index.
Select components
1.

Press the button.
2. Turn the controller: open "Vehicle Info".
3. Press the controller.
4. Selecting desired range:
▷ "Quick reference"
▷ "Search by pictures"
▷ "Owner's Manual"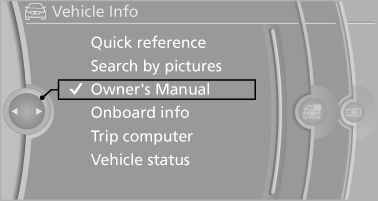 See also:
Opening and closing: from the inside
Unlocking and opening Either unlock the doors together using the button for the central locking system and then pull the door handle above the armrest or Pull the door opener twice in ...
The concept
This system projects important information into the driver's field of vision, e.g., the speed. In this way, the driver can get information without averting his or her eyes from the road. ...
Stowing cargo
▷ Heavy cargo: stow as far forward and as low as possible, ideally directly behind the cargo area separating wall. ▷ Very heavy cargo: when the rear seat is not occupied, secure e ...