Components of the integrated Owner's Manual
The integrated Owner's Manual consists of three parts, which offer various levels of information or access possibilities.
Quick Reference Guide
Located in the Quick Reference is important information for the operation of the vehicle, the operation of basic vehicle functions or for what to do in the event of a flat tire. This information can also be displayed during driving.
Search by pictures
Information and descriptions based on illustrations can be searched via search by pictures.
This is helpful, for example, if the description of an outfitting package that cannot be named is needed.
Owner's Manual
Information and descriptions can be searched by direct entry of a search term via the index.
Select components
1.

Press the button.
2. Turn the controller: open "Vehicle Info".
3. Press the controller.
4. Selecting desired range:
▷ "Quick reference"
▷ "Search by pictures"
▷ "Owner's Manual"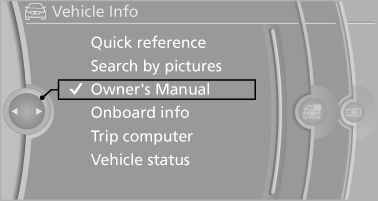 See also:
Tires
Due to technical factors associated with their manufacture, tires do not achieve their full traction potential until after an initial breaking-in period. Drive conservatively for the first 200 mi ...
Driving Experience Switch
The concept The Driving Experience Switch can be used to adjust the driving dynamics of the vehicle. For this purpose various programs are available for selection that are activated via the two ...
Context help - Owner's Manual to the temporarily selected function
The relevant information can be opened directly. Opening during operation via iDrive To move directly from the application on the Control Display to the options menu: 1. Press the button or mo ...