Components of the integrated Owner's Manual
The integrated Owner's Manual consists of three parts, which offer various levels of information or access possibilities.
Quick Reference Guide
Located in the Quick Reference is important information for the operation of the vehicle, the operation of basic vehicle functions or for what to do in the event of a flat tire. This information can also be displayed during driving.
Search by pictures
Information and descriptions based on illustrations can be searched via search by pictures.
This is helpful, for example, if the description of an outfitting package that cannot be named is needed.
Owner's Manual
Information and descriptions can be searched by direct entry of a search term via the index.
Select components
1.

Press the button.
2. Turn the controller: open "Vehicle Info".
3. Press the controller.
4. Selecting desired range:
▷ "Quick reference"
▷ "Search by pictures"
▷ "Owner's Manual"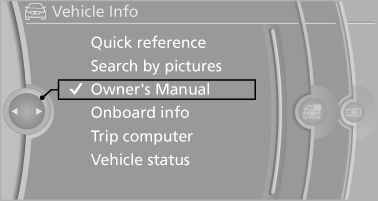 See also:
Intelligent use of advanced light technology
The optional High-Beam Assistant for the new BMW 3-Series Sedan provides enhanced safety at night. The system automatically switches high beam on and off, as conditions require, ensuring that the ...
Intermittent operation or rain sensor
The concept The rain sensor automatically controls the time between wipes depending on the intensity of the rainfall. The sensor is located on the windshield, directly behind the interior rearv ...
DTMF suffix dialing
DTMF suffix dialing can be used for gaining access to network services or for controlling devices, e.g., to make a remote inquiry of an answering machine. The DTMF code is needed for this purp ...