Opening the Options menu

Press the button.
The "Options" menu is displayed.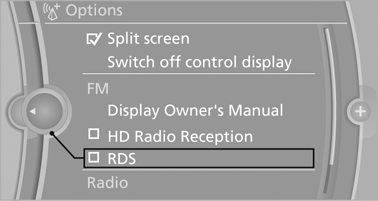 Additional options: move the controller to the right repeatedly until the "Options" menu is displayed.
Options menu
The "Options" menu consists of various areas:
▷ Screen settings, e.g., "Split screen".
This area remains unchanged.
▷ Control options for the selected main menu, e.g., for "Radio".
▷ If applicable, further operating options for the selected menu, e.g., "Store station".
See also:
The concept
DSC prevents traction loss in the driving wheels when driving away and accelerating. DSC also recognizes unstable vehicle conditions, such as fishtailing or nose-diving. Subject to physical lim ...
Headlamp range control
With halogen headlamps, the headlamp range of the low beams can be manually adjusted for the vehicle load to avoid blinding oncoming traffic. The values following the slash apply to trailer ope ...
Last destinations
The last destinations are stored automatically. These destinations can be called up and used as a destination for destination guidance. Opening the last destinations1. "Navigation" ...