New contact
A contact can have up to 8 phone numbers, 2 addresses, 3 e-mail addresses and one Internet address.
1. "Office"
2. "Contacts"
3. Open "Options".
4. "New contact"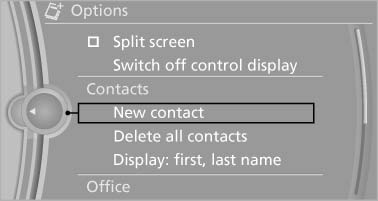 5. The entry fields are still filled with the previous entries: "Delete input fields"
6. Fill in the entry fields: select the symbol next to the entry field.
7. Enter the text and assign the contact type.
8. If the vehicle is equipped with a navigation system: enter the address. Only addresses contained in the navigation data in the vehicle can be entered. This ensures that destination guidance is possible for all addresses.
If necessary, "Accept address".
9. "Store contact in vehicle"
Contact types
Various contact types can be assigned to phone numbers and addresses.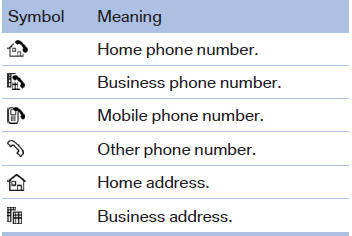 Specifying the home address
A home address can be stored. It appears at the top of the contact list.
1. "Office"
2. "Contacts"
3. "Home"
4. Create a contact.
5. "Store contact in vehicle"
See also:
California Proposition 65 Warning
California laws require us to state the following warning: Engine exhaust and a wide variety of automobile components and parts, including components found in the interior furnishings in a vehi ...
Fold-out position of the wipers
Required when changing the wiper blades or under frosty conditions, for example. 1. Switch off the ignition. 2. Under frosty conditions, ensure that the wiper blades are not frozen onto the wind ...
Destination entry by map
Selecting the destination 1. "Navigation" 2. "Map" The current position of the vehicle is indicated on the map. 3. "Interactive map" 4. Select the destination w ...