New contact
A contact can have up to 8 phone numbers, 2 addresses, 3 e-mail addresses and one Internet address.
1. "Office"
2. "Contacts"
3. Open "Options".
4. "New contact"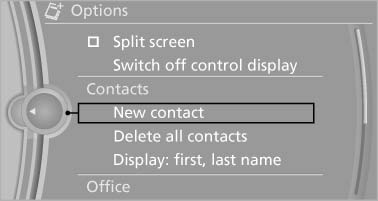 5. The entry fields are still filled with the previous entries: "Delete input fields"
6. Fill in the entry fields: select the symbol next to the entry field.
7. Enter the text and assign the contact type.
8. If the vehicle is equipped with a navigation system: enter the address. Only addresses contained in the navigation data in the vehicle can be entered. This ensures that destination guidance is possible for all addresses.
If necessary, "Accept address".
9. "Store contact in vehicle"
Contact types
Various contact types can be assigned to phone numbers and addresses.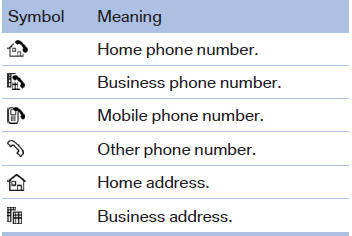 Specifying the home address
A home address can be stored. It appears at the top of the contact list.
1. "Office"
2. "Contacts"
3. "Home"
4. Create a contact.
5. "Store contact in vehicle"
See also:
PostCrash
In the event of an accident, the system can bring the car to a halt automatically without intervention by the driver in certain situations. This can reduce the risk of a further collision. Depr ...
Message when the system was not reset
A Check Control message is displayed. The system detected a wheel change but was not reset. Warnings regarding the current tire inflation pressure are not reliable. Check the tire inflation pre ...
Ventilation in rear
Ventilation in rear 1. Use the thumbwheels to smoothly open and close the air vents 2. Thumbwheels to adjust temperature in upper body region; can be adjusted separately for left and right: ...