Settings for external devices
1.

Press the button during playback.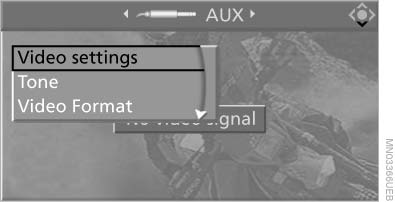 Settings for external devices
2. Make the settings with the remote control:
▷ "Video settings":
▷ "Brightness", "Color", and "Contrast" of the video playback.
▷ "NTSC color": the color can be adjusted on an external device with the NTSC standard.
▷ "Standard": the DVD system can be adapted to external devices with different
TV standards; to do so, consult the operating manual of the external device.
▷ "Reset": The settings are reset to the default values.
▷ "Tone":
▷ "Treble / Bass" and "Balance": separately adjustable for the left and right headphones and the infrared headphones.
▷ "Reset": your settings are reset.
▷ After switching to the top window, you can change other settings.
"Audio": adjust the volume of the external device to the volume of the CD/DVD player.
"Language": the system language of the DVD system.
"Display": background brightness of the screen.
▷ "Video Format":
▷ "Standard"
▷ "Zoom": full-screen playback.
To exit from the menu:

Press the buttons on the remote control.
See also:
Status display
The current status of the Tire Pressure Monitor TPM can be displayed on the Control Display, e.g., whether or not the TPM is active. 1. "Vehicle Info" 2. "Vehicle status" 3. ...
Switch off the engine during longer stops
Switch off the engine during longer stops, e.g., at traffic lights, railroad crossings or in traffic congestion. Fuel savings are achieved after the vehicle is switched off for only approx. 4 s ...
Jump-starting
If the car's own battery is flat, your BMW's engine can be started by connecting two jumper cables to another vehicle's battery. You can also use the same method to help start another ...