Settings and playback functions for audio CDs
1. Select "SET".
2.

Press the button.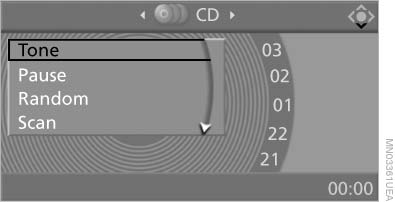 Settings and playback functions for audio CDs
3. Make the settings with the remote control:
▷ "Tone":
▷ "Treble / Bass" and "Balance": separately adjustable for the left and right headphones and the infrared headphones.
▷ "Reset": the settings are reset to the default values.
▷ "Pause": stop and continue playback.
▷ "Random": the CD tracks are played back once in random sequence.
▷ "Scan": brief samples of all CD tracks are automatically played one after another.
▷ "Repeat": repeat the current track. Select again to end.
To exit from the menu:

Press the buttons on the remote control.
See also:
Belt-force limiter
The effect of the belt-force limiter on the driver's seat is dependent on the position of the driver's seat. To maintain the long-term accuracy of this function, the driver's seat must be calib ...
Supplementary text messages
Additional information on the Control Display, e.g., on the cause of a malfunction or the required action, can be called up via Check Control. The text of urgent messages is displayed automatica ...
Requirements
Via the Control Display, set a language that is also supported by the voice activation system so that the spoken commands can be identified. Set the language ...