Making settings for DVD
1.

Press the button during playback.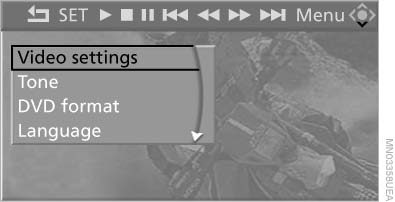 Making settings for DVD
2. Make the settings with the remote control:
▷ "Video settings":
▷ "Brightness", "Color", and "Contrast" on the screen.
▷ After switching to the top window, you can change other settings.
"Language": the system language of the DVD system
"Display": background brightness of the screen.
▷ "Tone":
▷ "Treble / Bass" and "Balance": separately adjustable for the left and right headphones and the infrared headphones.
▷ "Reset": the settings are reset to the default values.
▷ "DVD format":
▷ "Standard"
▷ "Zoom": full-screen playback.
▷ "Language": language of the DVD playback.
The language advances one setting each time the menu item is selected.
▷ "Subtitles": language of the subtitles or turn off the subtitles.
▷ "Title": select individual tracks on the DVD.
▷ "Angle of view": camera angle.
Information or symbols that appear during the playback of a film generally point out different camera angles. These are usually only briefly available.
▷ "Menu": open the DVD-specific menu.
▷ "Return": exit the menu, or:

Press the buttons on the remote control.
Many DVDs offer dialogs and subtitles in various languages or scene descriptions for the hearing impaired. These functions are stored on the DVD.
With some DVDs, it is only possible to select language, subtitles, camera angle, or title by using the DVD-specific menu. Consult the information accompanying your DVD.
See also:
Tire inflation pressure values up to 100 mph/160 km/h
320i 328i 335i ...
DTMF suffix dialing
DTMF suffix dialing can be used for gaining access to network services or for controlling devices, e.g., to make a remote inquiry of an answering machine. The DTMF code is needed for this purp ...
Self-leveling suspension
The concept The self-leveling suspension keeps the vehicle height and ground clearance constant. The height of the vehicle at the rear axle is maintained at a predefined level under all load co ...