Making settings for DVD
1.

Press the button during playback.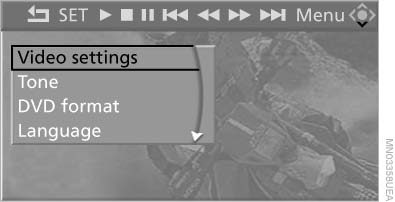 Making settings for DVD
2. Make the settings with the remote control:
▷ "Video settings":
▷ "Brightness", "Color", and "Contrast" on the screen.
▷ After switching to the top window, you can change other settings.
"Language": the system language of the DVD system
"Display": background brightness of the screen.
▷ "Tone":
▷ "Treble / Bass" and "Balance": separately adjustable for the left and right headphones and the infrared headphones.
▷ "Reset": the settings are reset to the default values.
▷ "DVD format":
▷ "Standard"
▷ "Zoom": full-screen playback.
▷ "Language": language of the DVD playback.
The language advances one setting each time the menu item is selected.
▷ "Subtitles": language of the subtitles or turn off the subtitles.
▷ "Title": select individual tracks on the DVD.
▷ "Angle of view": camera angle.
Information or symbols that appear during the playback of a film generally point out different camera angles. These are usually only briefly available.
▷ "Menu": open the DVD-specific menu.
▷ "Return": exit the menu, or:

Press the buttons on the remote control.
Many DVDs offer dialogs and subtitles in various languages or scene descriptions for the hearing impaired. These functions are stored on the DVD.
With some DVDs, it is only possible to select language, subtitles, camera angle, or title by using the DVD-specific menu. Consult the information accompanying your DVD.
See also:
Exterior care
Washing the vehicle Especially during the winter months, ensure that the vehicle is washed more frequently. Heavy soiling and road salt can lead to vehicle damage. After washing the vehicle, app ...
Profile management
Opening the profiles A different profile can be called up than the one associated with the remote control currently in use. 1. "Settings" 2. "Profiles" 3. Select a profil ...
Engine oil temperature
▷ Cold engine: the pointer is at the low temperature end. Drive at moderate engine and vehicle speeds. ▷ Normal operating temperature: the pointer is in the middle or in the lef ...