Making settings for DVD
1.

Press the button during playback.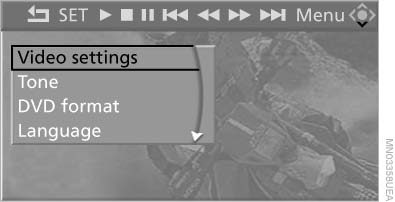 Making settings for DVD
2. Make the settings with the remote control:
▷ "Video settings":
▷ "Brightness", "Color", and "Contrast" on the screen.
▷ After switching to the top window, you can change other settings.
"Language": the system language of the DVD system
"Display": background brightness of the screen.
▷ "Tone":
▷ "Treble / Bass" and "Balance": separately adjustable for the left and right headphones and the infrared headphones.
▷ "Reset": the settings are reset to the default values.
▷ "DVD format":
▷ "Standard"
▷ "Zoom": full-screen playback.
▷ "Language": language of the DVD playback.
The language advances one setting each time the menu item is selected.
▷ "Subtitles": language of the subtitles or turn off the subtitles.
▷ "Title": select individual tracks on the DVD.
▷ "Angle of view": camera angle.
Information or symbols that appear during the playback of a film generally point out different camera angles. These are usually only briefly available.
▷ "Menu": open the DVD-specific menu.
▷ "Return": exit the menu, or:

Press the buttons on the remote control.
Many DVDs offer dialogs and subtitles in various languages or scene descriptions for the hearing impaired. These functions are stored on the DVD.
With some DVDs, it is only possible to select language, subtitles, camera angle, or title by using the DVD-specific menu. Consult the information accompanying your DVD.
See also:
Notes
CD/DVD player and changer Do not remove the cover BMW CD/DVD players and changers are officially designated Class 1 laser products. Do not operate if the cover is damaged; otherwise, severe ...
Date
Setting the date 1. "Settings" 2. "Time/Date" 3. "Date:" 4. Turn the controller until the desired day is displayed. 5. Press the controller. 6. Make the necessary ...
Avoid high engine speeds
Use 1st gear to get the vehicle in motion. Beginning with 2nd gear, accelerate rapidly. When accelerating, shift up before reaching high engine speeds. When you reach the desired speed, shift i ...