Changing the route criteria
1. "Navigation"
2. "Map"
3.

"Route preference"
4. Select the criterion:
▷

"Fast route": time-optimized route, being a combination of the shortest possible route and the fastest roads.
▷

"Efficient route": optimized combination of the fastest and shortest route.
▷

"Short route": short distance, irrespective of how fast or slow progress will be.
▷ "Alternative routes": if available, alternative routes are suggested during active destination guidance. The individual suggestions are highlighted in color.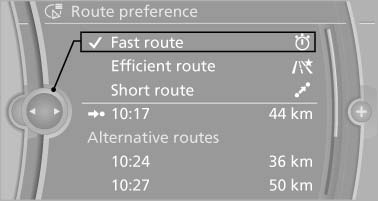 Alternative routes
5. Specify additional criteria for the route, if necessary:
▷ "Avoid highways": highways are avoided wherever possible.
▷ "Avoid toll roads": toll roads are avoided wherever possible.
▷ "Avoid ferries": ferries are avoided where possible.
See also:
Engine specifications
The rated power outputs are established on the basis of fuel grade AKI 91. ...
Switching the split screen on and off
1. Press the button. 2. "Split screen" 3. Move the controller until the split screen is selected. 4. Press the controller or select "Split screen content". 5. Select the d ...
Bluetooth audio
At a glance ▷ Music files on external devices such as audio devices or mobile phones can be played back via Bluetooth. Use of a mobile phone as an audio source ▷ The sound is output ...