Preselecting activation times
1. "Settings"
2. "Climate"
3. "Activate Timer 1" or "Activate Timer 2"
4. "Timer 1:" or "Timer 2:"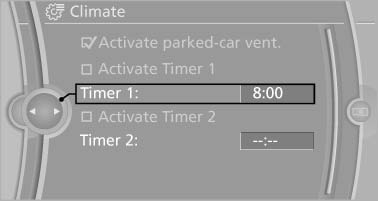 Preselecting activation times
5. Set the desired time.

The symbol on the automatic climate control lights up when the switch-on time is activated.

The symbol on the automatic climate control flashes when the system has been switched on.
The system will only be switched on within the next 24 hours. After that, it needs to reactivated.
See also:
Backrest width
Change the width of the backrest using the side wings to adjust the lateral support. ...
Bypassing a section of the route
Calculate a new route for a route section. 1. "Navigation" 2. "Route information" 3. "New route for" 4. Turn the controller. Enter the number of kilometers within ...
Controller
Select menu items and create settings. 1. Turn. 2. Press. 3. Move in four directions. Buttons on controller ...