Front ventilation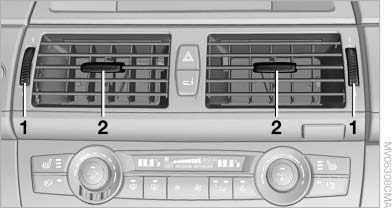 Front ventilation
1. Use the thumbwheels to smoothly open and close the air vents
2. Use the lever to change the direction of the air flow

Avoiding injury
Do not drop any foreign objects into the air vents, otherwise these could be catapulted outwards and lead to injuries.◀
Ventilation for cooling
Adjust the vents to direct the flow of cool air in your direction, for instance if the interior has become too warm.
Draft-free ventilation
Set the air vents so that the air flows past you and is not directed straight at you.
See also:
Run-flat tires
Label RSC label on the tire sidewall. The wheels are composed of special rims and tires that are self-supporting, to a limited degree. The support of the sidewall allows the tire to remain dr ...
Check the tire inflationpressure regularly
Check and, if necessary, correct the tire inflation pressure at least twice a month and before starting on a long trip. Low tire inflation pressure increases rolling resistance and thus raises f ...
Playing a supporting role: The innovative new 8-speed automatic transmission.
Like many new BMW models, the new BMW X3 features an 8-speed automatic transmission which brings smooth shifting, sportiness and efficiency to new levels of perfection. Compared to the exemplary 6 ...