Manual air distribution
The air flow can be guided into the vehicle interior, separately for the driver's and front passenger side, using one of the following programs:
▷ Upper body region.
▷ Upper body region and footwell.
▷ Footwell.
▷ Driver's side: in addition, the windshield, side windows, and footwell.
Selecting program

Press the button repeatedly until the desired program is shown on the Control Display.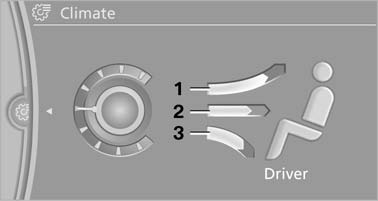 Selecting program
1. Air toward the windshield and side windows
2. Air for the upper body
3. Air to footwell
Pressing the AUTO button cancels the manual air distribution settings.
The automatic mode for the air volume remains effective with manual air distribution.
See also:
Pressure specifications
The tire inflation pressure table, contains all pressure specifications for the specified tire sizes at the ambient temperature. Pressure specifications apply to approved tire sizes and recommen ...
2011 BMW 750 Review by David Thomas
As the 2010 7 Series ebbs into the 2011 with few changes, I spent some time driving the 750Li xDrive. That's BMW's long-wheelbase, all-wheel-drive version of its flagship sedan. While I was impr ...
Measurement
Measurements are made by ultrasound sensors in the bumpers. The range is approx. 6 ft/2 m. An acoustic warning is first given: By the front* sensors and the two rear corner sensors at appro ...