Hiding Check Control messages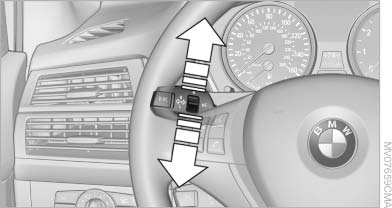 Hiding Check Control messages
Press the button in the turn signal lever up or down.
▷ Some Check Control messages are displayed continuously and are not cleared until the malfunction is eliminated. If several malfunctions occur at once, the messages are displayed consecutively.
These messages can be hidden for approx.
8 seconds. After this time, they are displayed again automatically.
▷ Other Check Control messages are hidden automatically after approx. 20 seconds.
They are stored and can be displayed again later.
See also:
Traffic Jump
Traffic and weather information for a selected region is broadcast every few minutes. Selecting a region 1. "Radio" 2. "Satellite radio" 3. Open "Options". 4. &quo ...
Special destinations
You can search for a special destination, e.g. a hotel or place of interest, and start destination guidance to the corresponding location. The scope of information provided depends on the partic ...
Flat Tire Monitor FTM
The conceptThe system does not measure the actual inflation pressure in the tires. The system detects a pressure loss in a tire by comparing the rotational speeds of the individual wheels while mov ...