Entering dates
Enter the dates for the required inspections.
Make sure the date on the Control Display is set correctly
1. "Vehicle Info"
2. "Vehicle status"
3.

"Service required"
4. "§ Vehicle inspection"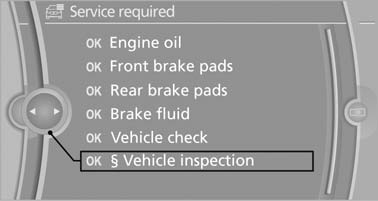 Vehicle inspection
5. Open the menu for entering the deadline.
6. "Date:"
7. Create the settings.
8. Press the controller to apply the setting. The year is highlighted.
9. Turn the controller to make the adjustment.
10. Press the controller to apply the setting. The date entry is stored.
To exit from the menu:
Move the controller to the left.
See also:
The concept
BMW X5 BMW X5 ▷ During normal brake application, the outer brake lamps light up. ▷ During heavy brake application, the inner brake lamps light up in addition. BMW X6 BMW X6 & ...
Upholstery material care
Vacuum regularly with a vacuum cleaner. If they are very dirty, e.g., beverage stains, use a soft sponge or microfiber cloth with a suitable interior cleaner. Clean the upholstery down to the se ...
General information
Enclosed areas Do not let the engine run in enclosed areas; otherwise, breathing of exhaust fumes may lead to loss of consciousness and death. The exhaust gases contain carbon monoxide, an ...