Comfort seat
The distance from the back of the seat occupant's head can be adjusted using the shoulder support.
Adjusting side extensions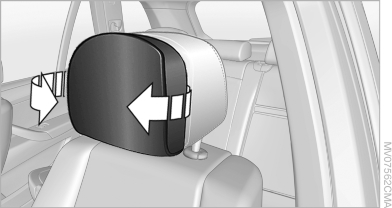 Adjusting side extensions
You can fold the side extensions on the head restraint forward for increased lateral support in the resting position.
See also:
Active front head restraints
In the event of a rear-end collision of sufficient severity, the active head restraint reduces the distance to the head. Reduced protective function ▷ Do not use seat or head restraint c ...
Storing favorites
Up to 30 favorites can be stored in the favorites list. Available favorites are artist, track, game, league, and team. Storing the artist, track, or game It is only possible to store favorites t ...
The Appendage Factor
M cars have had what I call a high appendage factor — the feeling that the car is an extension of the driver. It's typically experienced in cars whose various systems and characteristics are well- ...