Active seat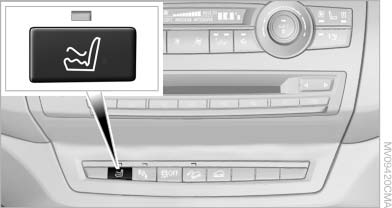 Active seat
The seat cushion is actively varied by alternately raising and lowering the right and left half of the seat cushion. This reduces muscular tension and fatigue to help prevent lower back pain.
Press the button to switch on; the LED lights up.
The action of the system is reduced and if need be, switched off in order to reduce the load on the battery. The LED remains lit.
When the active seat is switched off, it can take up to 1 minute before the two halves of the seat cushion have returned to their initial position.
See also:
Only refill the diesel exhaust fluid yourself in exceptional circumstances
To be able to reach the nearest service center with your vehicle, you may refill the diesel exhaust fluid yourself, making sure to heed the warning notices specified below. Handling diesel ex ...
Automatic deactivation
In certain situations, the Automatic Engine Start/ Stop Function is deactivated automatically for safety reasons, such as when the driver is detected to be absent. Malfunction The automatic en ...
General information
Overloading the vehicle To avoid exceeding the approved carrying capacity of the tires, never overload the vehicle. Overloading can lead to overheating and increases the rate at which damage deve ...