Adjusting electrically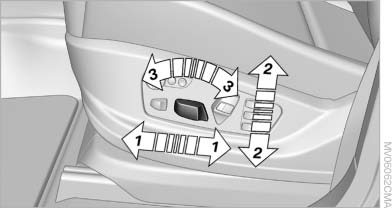 Adjusting electrically
1. Forward/backward
2. Height
3. Seat tilt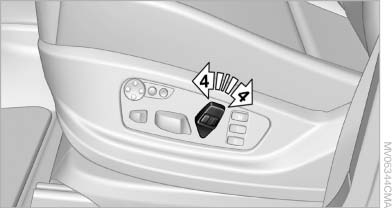 Backrest
4. Backrest
Differs depending on seat: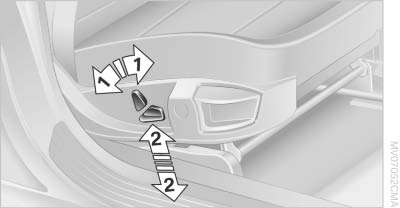 Differs depending on seat
1. Backrest
2. Height
Additional depending on seat: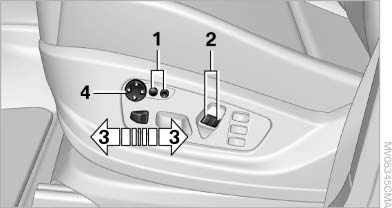 Additional depending on seat
1. Backrest width
2. Shoulder support
3. Thigh support
4. Lumbar support
Backrest width
The width of the backrest can be changed with the side wings to adjust the side support to your own needs.
Shoulder support
This also supports the back in the shoulder area, This creates a relaxed sitting position and helps relieve stress on the shoulder muscles.
The shoulder support is also used to adjust the distance of the head restraint from the back of the seat occupant's head.
Lumbar support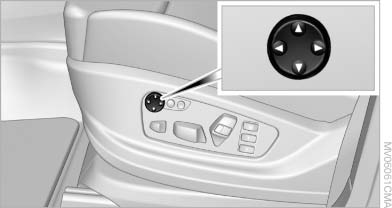 Lumbar support
You can also adjust the contour of the backrest to obtain additional support in the lumbar region.
The upper hips and spinal column receive supplementary support to help you maintain a relaxed, upright sitting position.
▷ Increase or decrease curvature:
Press front or rear section of switch.

▷ Shift curvature up or down:
Press upper or lower section of switch.
See also:
Vehicle battery
Maintenance The battery is maintenance-free, i.e., the electrolyte will last for the life of the battery. Your service center will be glad to advise you on questions regarding the battery. Batt ...
Clean the windshield, headlamps
Pull the lever. The system sprays washer fluid on the windshield and activates the wipers briefly. In addition, the headlamps are cleaned at regular intervals when the vehicle lights are switc ...
Upholstery material care
Vacuum regularly with a vacuum cleaner. If they are very dirty, e.g., beverage stains, use a soft sponge or microfiber cloth with a suitable interior cleaner. Clean the upholstery down to the se ...