New wheels and tires

Have new wheels and tires installed only by your BMW center or tire shop that works according to BMW repair procedures with correspondingly trained personnel. If this work is not carried out properly, there is a danger of subsequent damage and related safety hazards. Make sure that the new wheels are balanced.
Retreaded tires

BMW recommends that you do not use retreaded tires, since driving safety may be impaired. The causes for this include potentially different tire casing structures and often wide variations in tire age, which can result in a limited service life.
Correct wheels and tires
When mounting new tires or changing over from summer to winter tires and vice versa, mount run-flat tires for your own safety. In the event of a flat, no spare wheel is available. Your BMW center will be glad to advise you.
BMW recommends that you use only wheel and tire combinations that BMW has tested and approved for your particular vehicle. Variations in factors such as manufacturing tolerances mean that even wheels and tires with identical official size ratings could actually have different dimensions, which could lead to body contact and thus to severe accidents. If non-approved wheels and tires are used, BMW cannot evaluate their suitability, and therefore cannot guarantee their driving safety.
You can inquire about the right wheel/tire combination at your BMW center.
The correct combination of wheels and tires is also necessary to ensure reliable operation of various vehicle systems such as ABS, DSC or FTM.
To maintain good handling and vehicle response, use only tires of a single brand and tread configuration. After a tire has been damaged, mount the previous wheel and tire combination again as soon as possible.
Wheels with Tire Pressure Monitor
TPM electronics
When mounting new tires or changing over from summer to winter tires, or vice versa, only use wheels with TPM electronics; otherwise, the Tire Pressure Monitor may not be able to detect a puncture. Your BMW center will be glad to advise you.
Recommended tire brands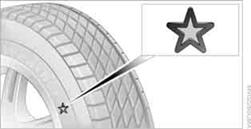 Certain makes of tire are recommended by BMW for each tire size. They are marked with a clearly visible BMW designation on the sidewall of the tire.
When properly used, these tires meet the highest standards in terms of safety and handling characteristics.
Special characteristics of winter tiresBMW recommends winter tires for winter roads or at temperatures below +45 7/+7 6.
Although all-season M+S tires provide better winter traction than summer tires, they generally fail to provide the same levels of coldweather performance as winter tires.
Pay attention to speed

Always comply with the speed limit for the winter tires mounted on your car; failure to do so could result in tire damage and accidents.
If the car is capable of speeds higher than that permitted for the winter tires, a label stating the maximum permitted speed for the mounted tires must be displayed in your field of view. Specialist tire dealers and your BMW center can supply these labels.
Storage
Store wheels and tires in a cool, dry place with as little exposure to light as possible. Always protect tires against all contact with oil, grease and fuels.
Do not exceed the maximum tire inflation pressure indicated on the sidewall of the tire.
Swapping wheels between axles
BMW advises against swapping wheels between the front and rear axles, even if all tires have the same size, as this could impair driving characteristics. If the tires are of mixed sizes, swapping wheels between the axles is not permissible.
See also:
Manual air distribution
The air distribution can be adjusted to individual needs. Press the button repeatedly to select a program: ▷ Upper body region. ▷ Upper body region and footwell. ▷ Footwel ...
PDC Park Distance Control
The concept In addition to the PDC Park Distance Control, the backup camera*, can be switched on. PDC supports you when parking. Objects that you are approaching slowly in front of or behind ...
SPORT
Consistently sporty tuning of the suspension for greater driving agility with maximum driving stabilization. The program can be configured to individual specifications. The configuration is stor ...