BMW Online
At a glance
You can use BMW Online to search the yellow pages.
License conditions:
This product contains NetFront Browser software of ACCESS Co., Ltd. Copyright © 2007
ACCESS Co., Ltd. All rights reserved.
NetFront is a trademark or registered trademark of ACCESS Co., Ltd., in Japan and other countries.
This software is based in part on the work of the Independent JPEG Group.
Requirements
> Subscription to the optional Convenience Plan.
> The vehicle is located within wireless network coverage.
> The date setting on the Control Display is current.
Starting BMW Online
1. "BMW Assist" or "ConnectedDrive"
2. "BMW Online"
3. "OK" if necessary
The BMW Online start page is displayed.
Using BMW Online
To select and display content:
> Turn the controller to highlight an element.
> Press the controller to display an element.
Opening the start page
1. Open "Options".
2. "Display start page"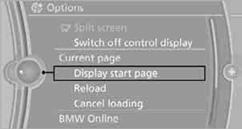 Loading a new page
1. Open "Options".
2. "Reload"
Canceling
1. Open "Options".
2. "Cancel loading"
See also:
The concept
The Check Control system monitors functions in the vehicle and notifies you of malfunctions in the monitored systems. A Check Control message is displayed as a combination of indicator or warni ...
Opening
Press the switch to the resistance point. The window opens while the switch is held. Press the switch beyond the resistance point. The window opens automatically. Pressing again stop ...
X6 in the Market
You might be thinking to yourself: Why is BMW coming out with another SUV? Well, the South Carolina-built X5 has been a solid seller for BMW, giving the brand a foothold in the SUV segment, but th ...