External devices
Overview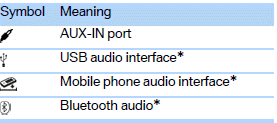 AUX-IN port
Overview
> It is possible to connect audio devices, e.g. MP3 players. Sound is output over the vehicle speakers.
> Recommended settings: mid-level tone and volume settings on the audio device. Tone may depend on the quality of the audio files.
Connecting
Lift up the center armrest.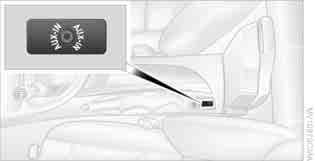 Connection for audio playback:
TRS connector 1/8 in/3.5 mm.
The AUX-In connection is in the center armrest.
Connect the headphone connection or line-out connection of the device to the jack plug.
Playback
1. Connect the audio device, switch it on, and using the audio device, select a track.
2. "CD/Multimedia"
3. "External devices" if applicable
4. "AUX front"
Volume
The volume of the sound output depends on the audio device. If this volume differs markedly from the volume of the other audio sources, it is advisable to adjust the volumes.
Adjusting volume
1. "CD/Multimedia"
2. "External devices" if applicable
3.

"AUX front"
4. "Volume"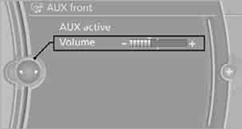 5. Turn the controller until the desired volume is set and then press the controller.
See also:
Activating HDC
Press the button; the LED above the button lights up. ...
Switching the system on/off
Press the left or right side of the button on the CD/DVD player in the rear for the respective page. Rear entertainment and screens are switched on/off. After switching off the ignition, ...
After the ignition is switched off
The roof can still be operated for approx. 1 minute, as long as no door has been opened. ...