Storing favorites
Up to 30 favorites can be stored in the favorites list. Available favorites are artist, track, game, league and team.
Storing the artist, track or game
It is only possible to store favorites that are currently being broadcast. The channel information must be available.
1. "Radio"
2. "Satellite radio"
3. Select "All channels" or the desired category.
4. Select the desired channel.
5. Press the controller again.
6. Select the artist, track or game.
Storing the league or team
Leagues or teams can be added to the favorites from a selection list.
1. "Radio"
2. "Satellite radio"
3.

"Manage favorites"
4. "Add sports information"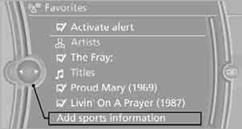 5. Select the desired league.
6. Select "Add all teams" or a desired team.
See also:
Ventilation in rear, center
▷ Thumbwheels for adjusting the temperature, arrows 1. Toward blue: colder. Toward red: warmer. ▷ Lever for changing the air flow direction, arrow 2. ▷ Thumbwheels for open ...
The concept
HDC is a downhill driving assistant that automatically controls vehicle speed on steep downhill gradients. Without the brakes being applied, the vehicle moves at slightly more than twice walki ...
Compatibility
If this symbol is printed on the packaging or in the instructions of the system to be controlled, the system is generally compatible compatible with the integrated universal remote control. ...