High beams/roadside parking lamps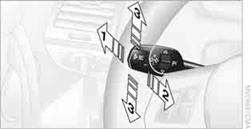 1 High beams
2 Headlamp flasher
3 Roadside parking lamps
Roadside parking lamps, left or rightThere is an additional option of switching on the lamps on the side of the car facing the road when parked.
Switching on
After parking the vehicle, press the lever up or down beyond the pressure point for approx.
1 second, arrow 3.

The roadside parking lamps drain the battery. Therefore, do not leave them on for unduly long periods of time; otherwise, the battery might not have enough power to start the engine.
Switching off
Press the lever in the opposite direction to the pressure point, arrow 3.
See also:
PDC Park Distance Control
The concept In addition to the PDC Park Distance Control, the backup camera, can be switched on. PDC supports you when parking. Objects that you are approaching slowly in front of or behind yo ...
Putting into operation after a power failure
Putting the parking brake into operation The parking brake should only be put into operation again if it was manually released due to an interruption in the supply of electrical power. Otherw ...
Deactivating the system
▷ Press the lever upward or downward twice, arrow 3. ▷ Switch off the ignition. The stored speed is cleared. ...