Washer fluid

Washer fluid is flammable. Therefore, keep it away from ignition sources and only store it in the closed original container that is kept out of reach of children; otherwise, there is a risk of personal injury. Comply with the instructions on the container.
Washer fluid filler neck

Only refill washer fluid when the engine is cool to avoid contact with hot engine parts. Otherwise, fluid spills constitute a fire hazard and a risk to personal safety.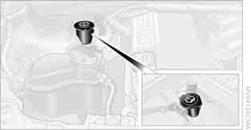 All washer nozzles are supplied with washer fluid by the same reservoir.
Fill with water and, if required, with a washer antifreeze, according to manufacturer's recommendations.

Mix the water and antifreeze before filling the washer fluid reservoir to make sure the correct concentration is maintained.
Capacity
Approx. 6.3 US quarts/6 liters.
See also:
Supplementary text messages
You can call up more information, e.g., on the cause of a malfunction and on how to respond, via Check Control. In urgent cases, this information will be shown as soon as the corresponding lamp ...
Special windshield
The windshield is part of the system. The shape of the windshield makes it possible to display a precise image. A film in the windshield prevents double images from being displayed. Therefore, ...
Engine oil temperature
Cold engine: the pointer is at the low temperature end. Drive at moderate engine and vehicle speeds. Normal operating temperature: the pointer is in the middle or in the left hal ...