Opening and closing: Using the door lock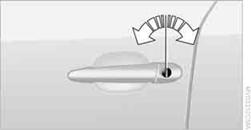 You can set the way in which the car is unlocked.

Do not lock the vehicle from the outside if there is any person inside, because the vehicle cannot be unlocked from inside without special knowledge.
Coupe

In vehicles without an alarm systemor
Comfort Access, only the driver's door can be locked via the door lock.
To lock both doors, the fuel filler flap and the trunk lid together:
1. With the doors closed, lock the vehicle using the button for the central locking system in the interior.
2. Unlock and open the driver's or front passenger door.
3. Lock the vehicle.
> Lock the driver's door using the integrated key in the door lock, or press down the lock button of the front passenger door and close the door from the outside.
Convenient opening and closing
Coupe: if the vehicle is equipped with an alarm systemor Comfort Access, you can also operate the windows and glass roofvia the door lock.
Convertible: you can operate the windows and convertible top via the door lock.
Hold the key in the position for unlocking or locking.

During each closing procedure, and when opening the convertible top, watch the process and ensure that no one becomes trapped. Releasing the key stops the operation.
Manual operation
In the event of an electrical malfunction, you can lock and unlock the driver's door by turning the integrated key to the corresponding limit positions in the door lock.
See also:
Reminders
Displaying reminders Reminders of pending appointments and tasks are displayed. After an appointment or after a task is due, the reminder is no longer displayed. 1. "Office". 2. &quot ...
DTMF suffix dialing
DTMF suffix dialing can be used for gaining access to network services or for controlling devices, e.g., to make a remote inquiry of an answering machine. The DTMF code is needed for this purpose. ...
Welcome lamps
When parking the vehicle, leave the switch in position or : the parking and interior lamps light up briefly when the vehicle is unlocked. Activating/deactivating 1. "Settings" 2. &quo ...