At a glance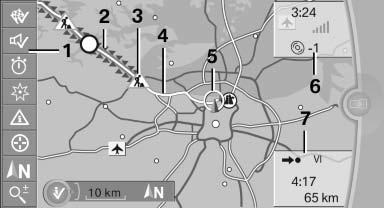 1 Function bar
2 Route section with traffic obstruction
3 Traffic sign for traffic obstruction
4 Planned route
5 Current location
6 Upper status field
7 Lower status field
Lines in the map
Streets and routes are displayed in different colors and styles depending on their classification. Dashed lines represent railways and ferry connections. Country borders are indicated by thin lines.
Traffic obstructions
Small triangles along the planned route indicate route sections with traffic obstructions, depending on the map scale. The direction of the triangles indicates the direction of the obstruction.
The traffic signs indicate the significance of the obstruction.
Red traffic sign: the obstruction affects the planned route or direction.
Gray traffic sign: the obstruction does not affect the planned route or direction.
Traffic bulletins.
Planned route
After destination guidance is started, the planned route is displayed on the map.
Status fields
Show/hide: press the controller.
Upper status field: time, telephone, and entertainment details.
Lower status field: symbol for active destination guidance, status of traffic bulletins, time of arrival, and distance to destination.
Function bar
The following functions are available in the function bar: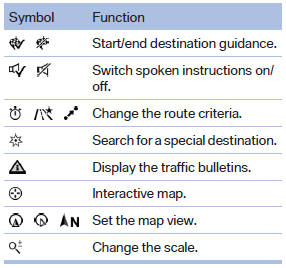 To change to the function bar, move the controller to the left.
See also:
Controls
This chapter is intended to provide you with information that will give you complete control of your vehicle. All features and accessories that are useful for driving and your safety, comfort an ...
Intermittent operation or rain sensor
The concept The rain sensor automatically controls the time between wipes depending on the intensity of the rainfall. The sensor is located on the windshield, directly behind the interior rearv ...
The concept
This system assists the driver in parking parallel to the road. Ultrasound sensors measure parking spaces on both sides of the vehicle. The parking assistant calculates the best possible par ...