Ventilation in rear, center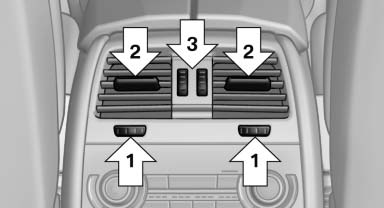 Thumbwheels* for adjusting the temperature, arrows 1.
Toward blue: colder.
Toward red: warmer.
Lever for changing the air flow direction, arrow 2.
Thumbwheels for opening and closing the vents continuously, arrow 3.<>
See also:
Hydroplaning
On wet or slushy roads, a wedge of water can form between the tires and road surface. This phenomenon is referred to as hydroplaning. It is characterized by a partial or complete loss of contact ...
Traffic Jump
Traffic and weather information for a selected region is broadcast every few minutes. Selecting a region 1. "Radio". 2. "Satellite radio". 3. "Options" Open. 4. &q ...
Torsion-resistant body, optimal weight, wide range of safety features
The new BMW Series 1's lightweight body makes it more agile and improves passenger safety, with high-strength steel being used to increase torsion resistance and the strength of the passenger safe ...