Opening
During opening, the trunk lid pivots back and up. Ensure that adequate clearance is available before opening.
Opening from the outside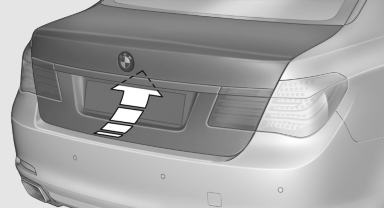 Press the button on the trunk lid.
Press the button on the remote control for approx. 1 second and release.
Opening from the inside

Push the button in the driver's footwell.
If the vehicle is stationary, the trunk lid opens if it is not locked.
Manual release
All of the vehicle's keys fit the trunk lid lock, located in the license plate recess.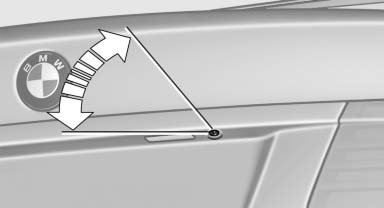 Turn the key all the way to the left. The trunk lid unlocks.
To avoid locking yourself out of the vehicle, do not place the key or remote control in the cargo area.
The trunk lid is locked again as soon as it is pushed closed.
If the trunk lid is opened via the lock with the alarm system armed, the alarm is triggered. Therefore, unlock the vehicle first.
If the alarm has been triggered accidentally: switch off the alarm.
See also:
Resuming the original route
If the route section should no longer be bypassed: 1. "Navigation" 2. "Route information" 3. "New route for:" 4. "Remove blocking" ...
Fuel cap
The indicator lamp lights up. If the fuel cap is not properly tightened, the OBD system may conclude that fuel vapor is escaping. If the cap is then tightened, the display should go out in a ...
Equalizer
Setting for individual audio frequency ranges. Adjusting the equalizer 1. "CD/Multimedia", "Radio" or "Settings" 2. "Tone" 3. "Equalizer" 4. Sele ...