Washer fluid
General information

Antifreeze for washer fluid
Antifreeze is flammable. Therefore, keep it away from sources of ignition.
Only keep it in the closed original container and inaccessible to children.
Follow the instructions on the container.◄
Washer fluid reservoir

Adding washer fluid
Only add washer fluid when the engine is cool, and then close the cover completely to avoid contact between the washer fluid and hot engine parts.
Otherwise, there is the danger of fire and a risk to personal safety if the fluid is spilled.◄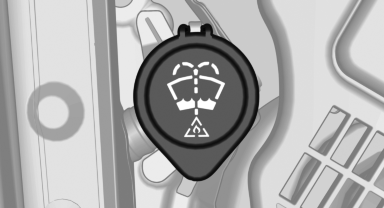 All washer nozzles are supplied from one reservoir.
Fill with water and Ц if required Ц with a washer antifreeze, according to the manufacturer's recommendations.
Mix the washer fluid before adding to maintain the correct mixing ratio.
For the capacity, refer to technical data.
See also:
Lingering Issues
The X5 hasn't aged well. The styling Ч unchanged since the second generation hit dealerships in late 2006 Ч looks expressive up front but ham-handed in back. From the glove compartment to the cent ...
At a glance
...
Load
The maximum load is the sum of the weight of the occupants and the cargo. The greater the weight of the occupants, the less cargo that can be transported ...