Components of the integrated Owner'sManual
The integrated Owner's Manual consists of three parts, which offer various levels of information or access possibilities.
Quick Reference Guide
Located in the Quick Reference is important information for the operation of the vehicle, the operation of basic vehicle functions or for what to do in the event of a flat tire. This information can also be displayed during driving.
Search by pictures
Information and descriptions based on illustrations can be searched via search by pictures.
This is helpful, for example, if the description of an outfitting package that cannot be named is needed.
Owner's Manual
Information and descriptions can be searched by direct entry of a search term via the index.
Select components
1.

Press the button.
2. Turn the controller: open "Vehicle Info".
3. Press the controller.
4. Selecting desired range:
► "Quick reference"
► "Search by pictures"
► "Owner's Manual"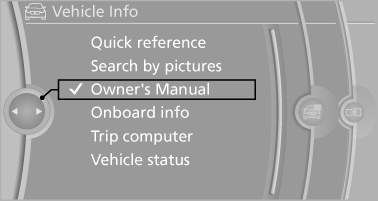 See also:
Lane departure warning
The concept Starting at a specific speed, this system alerts you when the vehicle on streets with lane markings is about to leave the lane. Depending on the country-specific version of the vehicle ...
2010 BMW X5 Review
Aside from a low clatter at startup, there are few initial signs that BMW's diesel-powered X5 is a different sort of beast. Drive it you must, though, because diesel power is addictive. As is the ca ...
Engine oil temperature
Cold engine: the pointer is at the low temperature end. Drive at moderate engine and vehicle speeds. Normal operating temperature: the pointer is in the middle or in the left hal ...