Open trunk lid with no-touch activation
With Comfort Access, the trunk lid can be opened with no-touch activation using the remote control you are carrying.
A sensor detects a directed foot motion in the center of the area at the rear of the car and the trunk lid opens.
During opening, the trunk lid pivots back and up.
Ensure that adequate clearance is available before opening.

Do not touch vehicle
With the foot motion, make sure there is steady stance and do not touch the vehicle; otherwise, there is a danger of injury, e. g. from hot exhaust system parts.◀
1. Position in the center behind the vehicle.
2. Move foot in the direction of travel underneath the bumper and immediately back.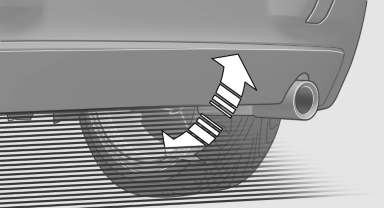 Open trunk lid with no-touch activation
The trunk lid opens, regardless of whether it was previously locked or unlocked.
See also:
Declaration according to NHTSA/FMVSS 138 Tire Pressure Monitoring Systems
Each tire, including the spare (if provided) should be checked monthly when cold and inflated to the inflation pressure recommended by the vehicle manufacturer on the vehicle placard or tire i ...
Safety switch
The following functions can be locked simultaneously, using the switch: Opening and closing of the rear windows using the switches in the rear. Operation of the roller sunblinds* using the ...
Compact Design
Just as BMW's compact 3 Series ranks below the midsize 5 Series, the five-seat X3 sits in the shadow of the larger X5. The styling clearly says BMW, but it's the multi-paneled look of earlier mode ...