Changing between panels
After a menu item is selected, e.g., "Radio", a new panel is displayed. Panels can overlap.
▷ Move the controller to the left.
The current panel is closed and the previous panel is displayed.
The previous panel is opened again by pressing the BACK button. In this case, the current panel is not closed.
▷ Move the controller to the right.
A new panel is opened on top of the previous display.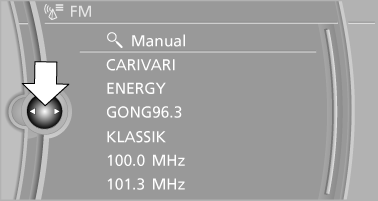 White arrows pointing to the left or right indicate that additional panels can be opened.
See also:
Menu navigation
The transmission time of the remote control is limited by law. To execute a function again, press or turn the required button again. ...
Deactivating HDC
Press the button again; the LED goes out. HDC is automatically deactivated above approx. 37 mph/60 km/h. ...
Driving Experience Switch
The concept The Driving Experience Switch can be used to adjust the certain characteristics of the vehicle. Various programs can be selected for this purpose. The Driving Experience Switch and ...