Only refill the diesel exhaust fluid yourself in exceptional circumstances
To be able to reach the nearest service center with your vehicle, you may refill the diesel exhaust fluid yourself, making sure to heed the warning notices specified below.

Handling diesel exhaust fluid
Do not allow diesel exhaust fluid to come into contact with you. This can lead to skin and eye irritation. Wear protective goggles and gloves as needed. Follow the safety instructions on the bottle. When opening the bottle or reservoir reservoir, pungent smelling vapors can escape. Before refilling, close the vehicle completely so that the vapors do not get into the interior of the vehicle. When handling diesel exhaust fluid in enclosed spaces, make sure to have sufficient ventilation. After handling diesel exhaust fluid, wash hands thoroughly. Failure to do so may lead to irritation, for instance, due to inadvertent contact with the eyes. If eye irritation occurs, immediately rinse eyes with ample water and contact a doctor if necessary. If diesel exhaust fluid comes into contact with surfaces of your vehicle, rinse the affected surfaces with water or else damage may occur. Keep diesel exhaust fluid out of reach of children.◀
Suitable diesel exhaust fluid
▷ Preferred: BMW Diesel Exhaust Fluid. This bottle and its special adapter permit convenient refilling with diesel exhaust fluid.
▷ Alternative: NOx reduction agent AUS 32 Diesel exhaust fluid can be obtained from your service center.
Refilling quantity
Refilling quantity at the start of the reserve display:
Approx. 0.75 gallons/2.7 liters
Open reservoir for diesel exhaust fluid
1. Open the hood
2. Fit the releasing tool from the tool kit, into place and open the lock, see arrow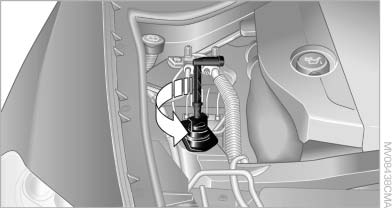 Open reservoir for diesel exhaust fluid
Refilling BMW diesel exhaust fluid
1. Set bottle into place and rotate until it comes into contact with the stop, refer to arrow.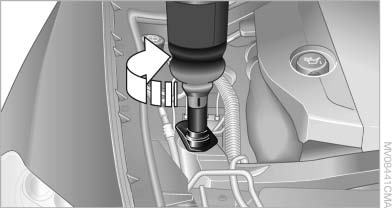 2. Press bottle down, refer to arrow.
The reservoir of the vehicle is filled.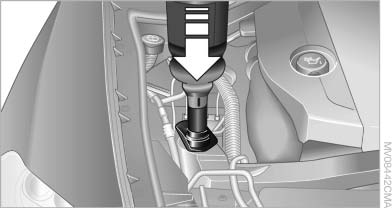 3. The reservoir is full when the fill level in the bottle stops changing. It is not possible to overfill.
Pull bottle back, refer to arrow, and unscrew it.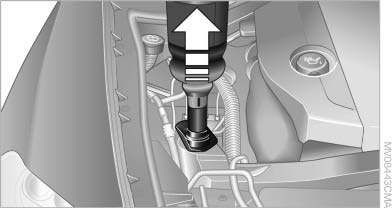 Closing reservoir
After the reservoir is filled, close it again with the releasing tool.
See also:
Service data in the remote control
Information on the required maintenance is continuously stored in the remote control. Your service center will read out this data and suggest the right array of service procedures for your vehic ...
Installing child restraint fixingsystems
Before mounting Before mounting child restraint fixing systems, ensure that the rear seat backrests are locked. Notes Manufacturer's information for child restraint fixing systems To select, mo ...
Headlamps
▷ Do not rub dry and do not use abrasive or caustic cleansers. ▷ Soak areas that have been soiled e.g. due to insects, with shampoo and wash off with water. ▷ Thaw ice with d ...