Settings for external devices
1.

Press the button during playback.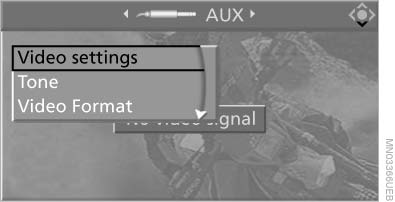 Settings for external devices
2. Make the settings with the remote control:
▷ "Video settings":
▷ "Brightness", "Color", and "Contrast" of the video playback.
▷ "NTSC color": the color can be adjusted on an external device with the NTSC standard.
▷ "Standard": the DVD system can be adapted to external devices with different
TV standards; to do so, consult the operating manual of the external device.
▷ "Reset": The settings are reset to the default values.
▷ "Tone":
▷ "Treble / Bass" and "Balance": separately adjustable for the left and right headphones and the infrared headphones.
▷ "Reset": your settings are reset.
▷ After switching to the top window, you can change other settings.
"Audio": adjust the volume of the external device to the volume of the CD/DVD player.
"Language": the system language of the DVD system.
"Display": background brightness of the screen.
▷ "Video Format":
▷ "Standard"
▷ "Zoom": full-screen playback.
To exit from the menu:

Press the buttons on the remote control.
See also:
USB audio interface/mobile phone audio interface
At a glance It is possible to connect external audio devices. They can be operated via iDrive. The sound is output on the vehicle loudspeakers. Connectors for external devices ▷ Connection ...
Using this Owner's Manual
The fastest way to find information on a particular topic is by using the index. An initial overview of the vehicle is provided in the first chapter. Updates made after the editorial deadline A ...
Displays in the instrument cluster
Indicator lamp Depending on how the vehicle is equipped, the indicator lamp in the instrument cluster indicates whether the system is switched on. Desired speed ► The marking lights up ...