Making settings for DVD
1.

Press the button during playback.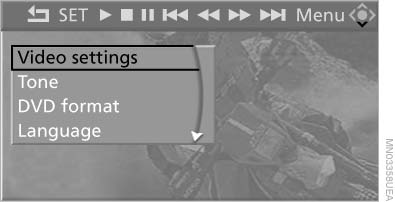 Making settings for DVD
2. Make the settings with the remote control:
▷ "Video settings":
▷ "Brightness", "Color", and "Contrast" on the screen.
▷ After switching to the top window, you can change other settings.
"Language": the system language of the DVD system
"Display": background brightness of the screen.
▷ "Tone":
▷ "Treble / Bass" and "Balance": separately adjustable for the left and right headphones and the infrared headphones.
▷ "Reset": the settings are reset to the default values.
▷ "DVD format":
▷ "Standard"
▷ "Zoom": full-screen playback.
▷ "Language": language of the DVD playback.
The language advances one setting each time the menu item is selected.
▷ "Subtitles": language of the subtitles or turn off the subtitles.
▷ "Title": select individual tracks on the DVD.
▷ "Angle of view": camera angle.
Information or symbols that appear during the playback of a film generally point out different camera angles. These are usually only briefly available.
▷ "Menu": open the DVD-specific menu.
▷ "Return": exit the menu, or:

Press the buttons on the remote control.
Many DVDs offer dialogs and subtitles in various languages or scene descriptions for the hearing impaired. These functions are stored on the DVD.
With some DVDs, it is only possible to select language, subtitles, camera angle, or title by using the DVD-specific menu. Consult the information accompanying your DVD.
See also:
Innovative boot access makes life a little easier
BMW ConnectedDrive has come up with another convenience-enhancing feature: the hands-free boot lid opening function - available for the new BMW 3-Series Sedan in conjunction with Comfort Access - ...
Ventilation in rear, center
▷ Thumbwheels for adjusting the temperature, arrows 1. Toward blue: colder. Toward red: warmer. ▷ Lever for changing the air flow direction, arrow 2. ▷ Thumbwheels for open ...
General information
The interior lamps, footwell lamps, exit lamps, cargo area lamps and courtesy lamps are controlled automatically. The courtesy lamps have LED lights in the door handles to illuminate the exteri ...