Opening the hood

Working in the engine compartment
Never attempt to perform any service or repair operations on your vehicle without the necessary professional technical training.
If you are unfamiliar with the statutory guidelines, have any work on the vehicle performed only by a service center.
If this work is not carried out properly, there is the danger of subsequent damage and related safety hazards.

Never reach into the engine compartment
Never reach into the intermediate spaces or gaps in the engine compartment. Otherwise, there is risk of injury, e.g. from rotating or hot parts.
1. Pull the lever.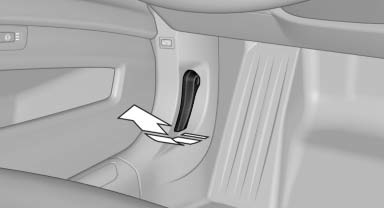 2. Press the release handle and open the hood.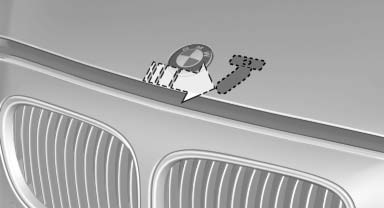 3. Be careful of protruding parts on the hood.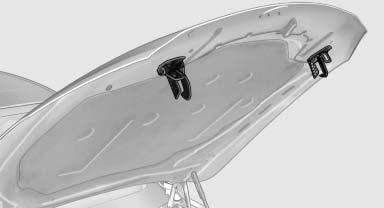 Danger of injury when the hood is open
There is a danger of injury from protruding parts when the hood is open.
See also:
Malfunction
Comfort Access may not function properly if it experiences interference from external sources such as mobile phones, metal objects, overhead power lines, transmission towers, etc. In this case, ...
Engaging the transmission position
► Transmission position P can only be disengaged if the engine is running and the brake pedal is pressed. ► With the vehicle stationary, press on the brake pedal before shifting out of ...
Car care products
BMW recommends using cleaning and care products from BMW, since these have been tested and approved. Car care and cleaning products Follow the instructions on the container. When cleaning the ...